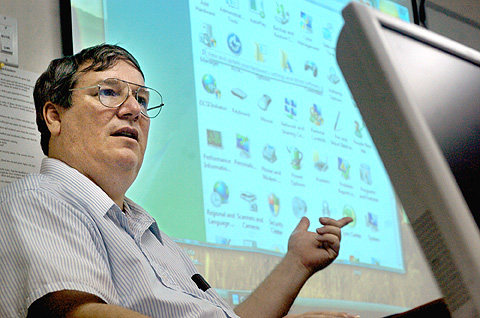 Don Beach has served 6 times as President of PCBUG ( Personal Computer Business User Group ) and a total of 16 years on the Board of Directors.
And is a past 5 term member of the Naples Free-Net Board, also serving on the NFN Tech Team for over 8 years.
---
Windows 8.1 Presentation 2013
| | |
| --- | --- |
| Nov 21 at 5pm | Naples Regional Library - PCBUG |
| | 650 Central Ave. |
Don Beach is a Computer and Network Technician who provides repair, upgrade, networking, tutoring and website services to consumers as well as to small businesses.

This includes the Installation, Configuration and Administration of various versions of Windows Server Systems from Windows Server 2003 through Windows Server 2012 R2.

With Windows 8.1 having been Released to Manufacturing (RTM), presentations for this newest Windows Operating System are already being scheduled.
For Microsoft Windows 8 Operating System, a series of 5 presentations for the for PCBUG, Naples Freenet and the Naples Library System were conducted in the Fall of 2012.
In 2007-08 a series - "An Overview of Windows Vista" had been presented for PCBUG and the Naples Freenet.
In the Fall of 2009 a series - "An Overview of Windows 7" had been presented for PCBUG, the Naples Freenet and the Collier County Library.
In fact Don has been making presentations on a variety of Computer and Networking related topics and various Microsoft Operating Systems going back to the days of Windows 95 and Windows 3.1
As a Microsoft Partner, Don keeps abreast of the current Server and Desktop technologies in use in the marketplace.
Don Beach's website can be found at: http://naplestechguy.com/